Step One:
On this screen you will see all the sessions available. Locate the session you want to register for.
Sessions that are available will show as green in the availability column.
Sessions that are unavailable will show as red in the availability column.
When you locate the session you are interested in registering for, please click on the "+" sign at the left. If selected properly, it will change into a "-" indicating the session has been selected.
After selecting your session, click "Add to Cart."
You may select one session or multiple sessions.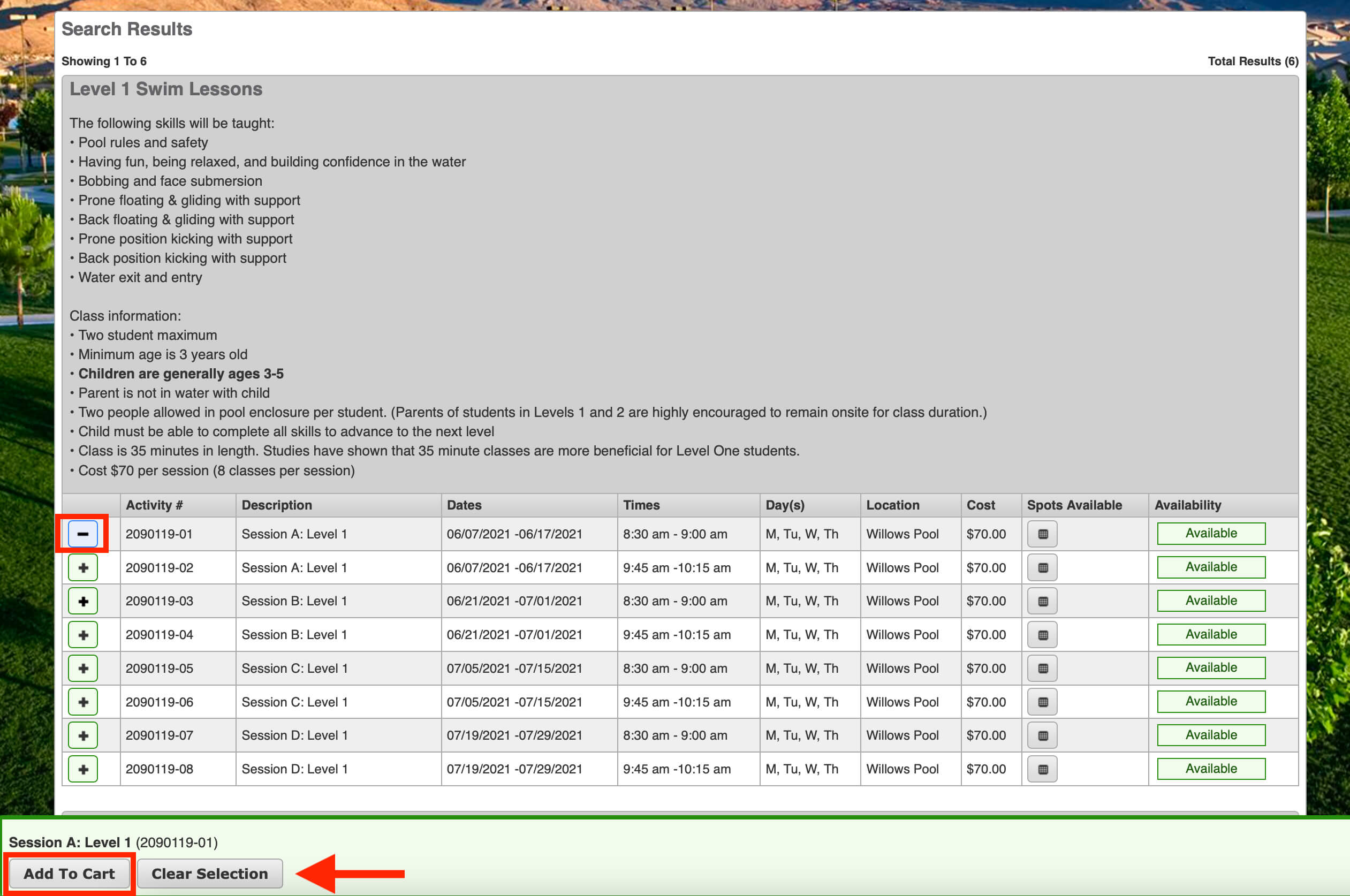 Step Two:
Login
You will need to enter your Summerlin Household ID# and LAST NAME of the PRIMARY Household member to continue:
USERNAME – Your Summerlin Household ID# found on the front of your Summerlin Membership Card (issued after April 2018*).
*All renters and any homeowners with an ID card issued prior to April 2018 are not eligible. Please call (702)341-5500 for assistance or to schedule an appointment to update your ID card.
PASSWORD

Owners – the first time you log into the system, your password is the last name of the primary member.
Renters – the first time you log into the system, please call (702)341-5500 for assistance.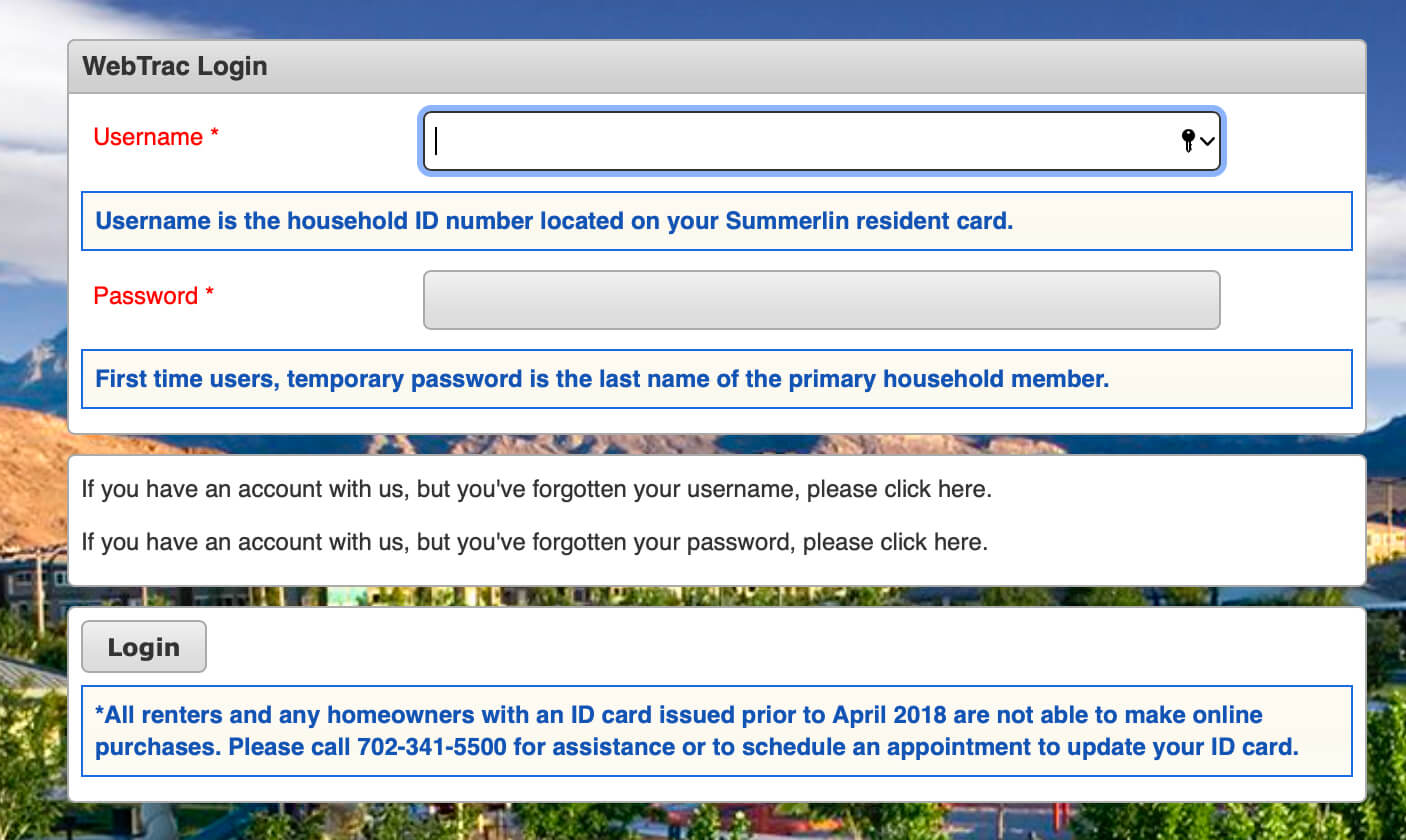 Step Three:
The children in your household that meet the class criteria will display here.
Select the child you wish to enroll.
Click "Continue."

Step Four:
Please review the waiver and Click "I Agree" at bottom and "Continue."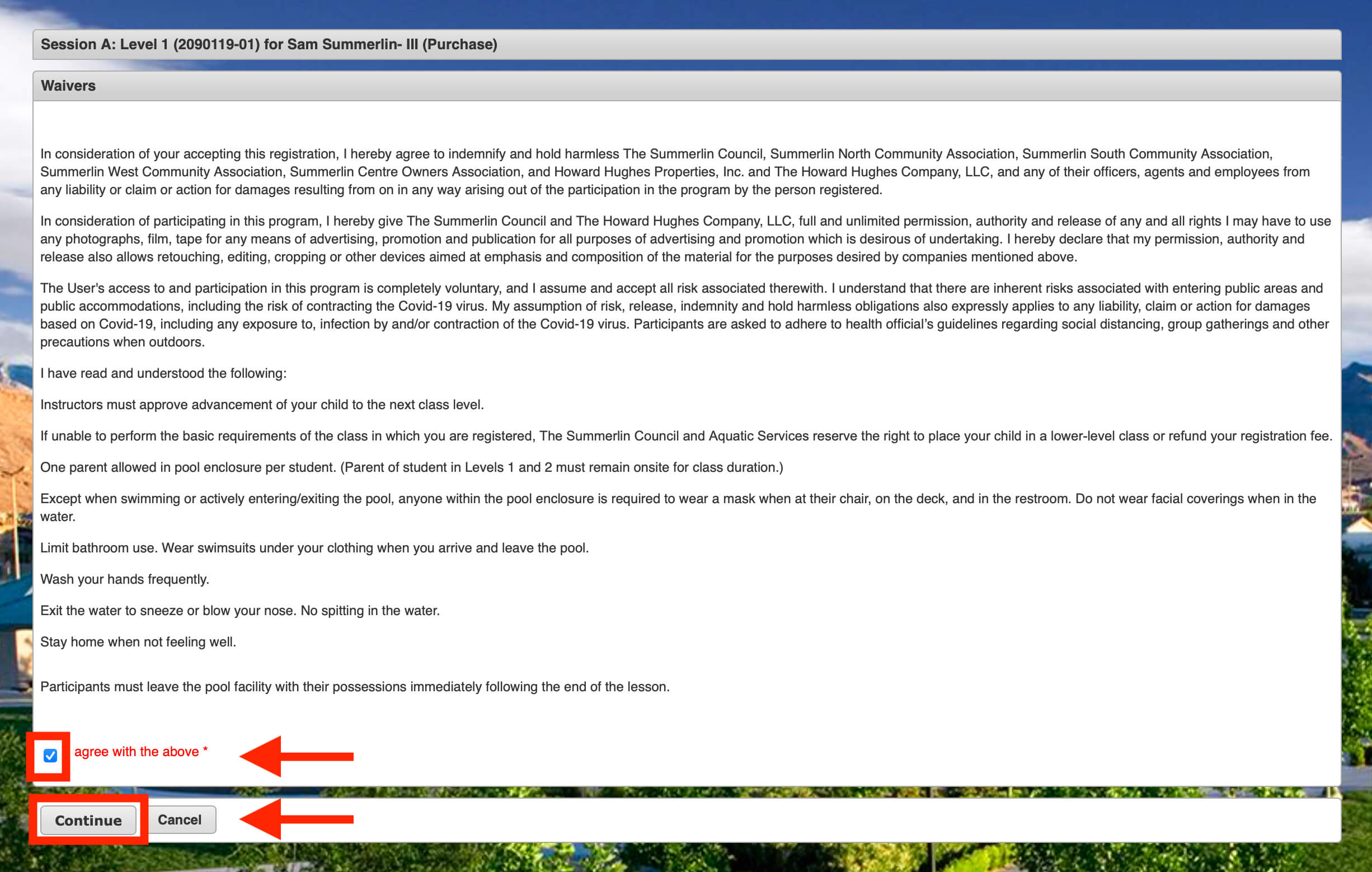 Step Five:
This screen will show you the session selected for purchase. If the session selected is correct, click "Proceed to Checkout."
If you do not want the session selected and wish to make a new selection, you may choose "Empty Cart" and start over.

Step Six:
Payment Processing:
On this screen, you will see a summary of charges.
Please review your balance(s)
Choose your payment method
Make sure your Customer Information is filled out
Please fill out your Payment Information
Click "Continue."
Once submitted, you will be sent a confirmation receipt via your E-mail.

Step Seven:
Your transaction is complete.
If you would like to send a registration receipt to another email address, enter in filed.
Please bring your E-mail with you in the event of any questions or issues.
If you wish to register for another session, please choose "Continue Shopping."
If you are finished registering at this time, please choose "Log Out".
QUESTIONS? Please call 702-341-5500

Last Updated on May 11, 2021 @ 9:30 AM